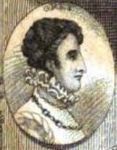 New To: Life: Page 1a2
Source: "Ladies' Magazine and Literary Gazette"
Article: "The Four Portraits"
Author: Sarah Josepha Buell Hale
Publisher: John Putnam
Year: 1830
Read online here.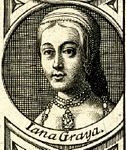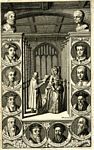 New To: Life: Page 1a3
Shows: Shows oval of "Iana Graya" (Jane Gray) from a larger print and the larger print.
Medium: Engraving
Artist: Michael Burghers
Size: 164m x 101m
Location: British Museum
Description: Columned interior in which a man (possibly Roger Ascham) wearing a ruff and long cloak reads from a paper to Queen Elizabeth; resting on two columns at the top, busts of the heads of Demosthenes and Cicero; arranged around the outside of the scene circular portraits of the heads of Edward VI, Elizabeth I, John Cheke, Johann Sturmius, William Cecil, Thomas Smith, Johann Sleidan, John Aylmer, Jane Grey, and Mary I. - Lettered beneath the busts and portraits with the names of the subjects: 'Demosthenes', 'M. T. Cicero', 'Eduardus Sext. Rex', 'Elizabetha Regina', 'Ioannes Checus Eq.A.', 'Ioannes Sturmius', 'Guilielmus Cecilius Baro.', 'D. Thomas Smith Eq.', 'Ioannes Sleidanus', 'Ioannes Elmarus Episc.', 'Iana Graya', and 'Maria Regina'.
Found here.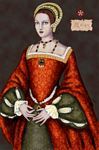 New To: Life: Page 1a3
Title: Jane Grey
Medium: Digital Art
Artist: alexasrosa
Year: 2008
Found here.
Permission Granted To Use By Artist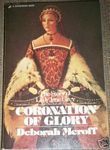 New To: Life: Page 1a3
Shows: Cover of "Coronation of Glory: The Story of Lady Jane Grey"
Author: Deborah Meroff
Year: 1979
New To: Life: Page 1a3
Shows: Cover of "Lady Jane; een vrouw die temidden van hofintriges haar liefde trouw bleef" (German for "Coronation of Glory: The Story of Lady Jane Grey")
Author: Deborah Meroff

New To: Life: Page 1a3
Shows: Lady Jane Grey
Medium: Drawing
Artist: Emma Metcalfe
Found here.

New To: Life: Page 1c
Shows: Lady Jane Grey
Source: "A Cyclopaedia of Female Biography: Consisting of Sketches of All Women who Have Been Distinguished by Great Talents, Strength of Character, Piety, Benevolence, Or Moral Virtue of Any Kind"
Author: Henry Gardiner Adams
Publisher: Groombridge
Year: 1857
Read online here.

New To: Life: Page 1c
Shows: Lady Jane Grey
Source: "Library of Universal History: Containing a Record of the Human Race from the Earliest Historical Period to the Present Time"
Editor: Israel Smith Clare
Year: 1897
Read online here.

My Collection
New To: Life: Page 1e: Jane and Guildford
Shows: The Wedding of Lady Jane Grey and Lord Guildford Dudley
Caption: "The ambitious Duke of Northumberland married his son, Lord Guildford Dudley, to the Lady Jane Grey with the definite intention of making his son and Lady Jane ing and Queen of England."
Source: "The Romance of the Nation: A Stirring Pageant of the British Peoples Through All the Ages"
Author: Charles Ray
Publisher: Amalgamated Press
Year: 1934

My Collection
New To: Life: Page 1e: Jane and Guildford & Reign: Page 2
Shows: Lady Jane Grey and Lord Guildford Dudley
Caption: "Young Guildford Dudley walked by the side of his wife, cap in hand, and bowed to the ground in great deference whenever she spoke to him."
Source: "The Romance of the Nation: A Stirring Pageant of the British Peoples Through All the Ages"
Author: Charles Ray
Publisher: Amalgamated Press
Year: 1934

New To: Life: Page 1e: Jane and Guildford & Miscellany: Uneekdolldesigns' Lady Jane Grey Dolls
Shows: Lady Jane Grey & Lord Guildford Dudley Character Dolls
Description: Jane is dressed in a chocolate brown satin gown accented in gold and silver brocade trim. Her long hair is topped with an ivory and brown headdress. Dudley is created wearing balloon pants and velvet top. He sports a black and wine colored cape, and wears a flat wine hat topped with a feather.
Artist: Debbie Ritter aka uneekdolldesigns
Size: Both 4 and 1/2 inches tall.
Year: 2009
Interested in buying Jane or other great dolls? Visit her Etsy Shoppe here.
Permission Granted To Use By Artist

New To: Life: Page 2
Cover: "Dans L'ombre de Lady Jane" ("In The Shadow of Lady Jane")
Author: Edward Charles
Translator: Daniel Lauzon
Language: French
Year: 2008
Found here.

My Collection
New To: Life: Page 3a
Shows: Lady Jane Grey
Artist: Charles Keeping
Source: "Jack the Treacle Eater"
Author: Charles Causley
Year: 1988

My Collection
New To: Life: Page 3a
Caption: "When Henry the Eighth's last queen, Catherine Parr, died, little Jane Grey walked as chief mourner at her funeral, and had her train supported by a young nobleman."
Source: "The Romance of the Nation: A Stirring Pageant of the British Peoples Through All the Ages"
Author: Charles Ray
Publisher: Amalgamated Press
Year: 1934

My Collection
New To: Life: Page 3a
Caption: "When Princess Mary sent a beautiful dress to Lady Jane Grey, the latter asked what she should do with it, and when told that it was to wear, she astonished the lady who brought it by expressing disapproval because of it's richness."
Source: "The Romance of the Nation: A Stirring Pageant of the British Peoples Through All the Ages"
Author: Charles Ray
Publisher: Amalgamated Press
Year: 1934

My Collection
New To: Life: Page 3a
Caption: "Lady Jane Grey's father and mother were determined that she should marry Lord Dudley, and when she did not give her consent readily they beat her in order to make her agree."
Source: "The Romance of the Nation: A Stirring Pageant of the British Peoples Through All the Ages"
Author: Charles Ray
Publisher: Amalgamated Press
Year: 1934

My Collection
New To: Life: Page 3a
Caption: "Stanfield Hall in Norfolk was not a very attractive place for a bride, for one of the sights seen from the windows was the body of Kett, the rebel leader, dangling from the church tower."
Source: "The Romance of the Nation: A Stirring Pageant of the British Peoples Through All the Ages"
Author: Charles Ray
Publisher: Amalgamated Press
Year: 1934

My Collection
New To: Life: Page 3a
Caption: "Poor little Jane struggled between life and death, and she had the idea that someone was trying to poison her, although there is no evidence of this."
Source: "The Romance of the Nation: A Stirring Pageant of the British Peoples Through All the Ages"
Author: Charles Ray
Publisher: Amalgamated Press
Year: 1934

New To: Life: Page 5
Shows: Lady Jane Grey
Medium: Miniature Painting
Size: 3.75 x 2.7 inches
Date: Circa 18/19th Century

New To: Life: Page 5
Shows: Lady Jane Grey
Medium: Photoshop using a graphics tablet.
Artist: Maidith
Date: 2008
Permission Granted To Use By Artist
Her homepage is here.

New To: Life: Page 5
Shows: Lady Jane Grey
Medium: IMVU
Artist: Chri55ee
Date: 2008
Found here.

New To: Life: Page 5
Shows: Lady Jane Grey
Medium: Drawing
Artist: darthryuker
Description: An interpretation of the cover of "Innocent Traitor" by Alison Weir.
Date: 2009
Found here.

New To: Life: Page 5
Shows: Lady Jane Grey
Medium: Drawing
Artist: TudorGirl7
Description: An interpretation of the cover of "Innocent Traitor" by Alison Weir.
Date: 2008
Found here.

New To: Life: Page 5
Shows: Lady Jane Grey
Medium: Drawing with Prismacolor Verithin Art Set, colored pencils, a special ink pen and pencil to draw and add touches to it. She first sketched the drawing then outlined it in the pen then shaded the colors in.
Artist: Jennifer Marie Spencer aka ArchaicxRose
Date: 2008
Permission Granted To Use By Artist
Found here.

New To: Life: Page 5
Shows: Lady Jane Grey
Medium: Watercolor Pencil Drawing
Artist: Crogoski
Date: 2008
Permission Granted To Use By Artist
Found here.

New To: Life: Page 5
Shows: Lady Jane Grey Sims
Medium: Sims 2 Character
Artist: Boffin 2000
Date: 2008
Found here.

My Collection
New To: Life: Page 5
Shows: Lady Jane Grey
Medium: Drawing
Artist: Harmony (My Niece)
Date: 2009

My Collection
New To: Reign: Page 1
Caption: "Lady Jane Grey and her friends went in their barge up the river to Sion House, but when they arrived and landed they found no one to receive them."
Source: "The Romance of the Nation: A Stirring Pageant of the British Peoples Through All the Ages"
Author: Charles Ray
Publisher: Amalgamated Press
Year: 1934

My Collection
New To: Reign: Page 1
Caption: "The earls began to make deferential speeches, bending the knee before Jane, and their example was followed by several noble ladies."
Source: "The Romance of the Nation: A Stirring Pageant of the British Peoples Through All the Ages"
Author: Charles Ray
Publisher: Amalgamated Press
Year: 1934

My Collection
New To: Reign: Page 1
Caption: "When Lady Jane Grey heard that King Edward had made her his heir, she swooned, and for a time lay as though she was dead."
Source: "The Romance of the Nation: A Stirring Pageant of the British Peoples Through All the Ages"
Author: Charles Ray
Publisher: Amalgamated Press
Year: 1934




New To: Reign: Page 1
Shows: The Offer of the Crown to Lady Jane Grey
Source: "Comic English Histories"
Author: Richard Doyle
Year: 1886
Image Credit: Time Life Pictures

Originally Added 2 - 12 - 2005




My Collection
New To: Reign: Page 1
Shows: The Offer of the Crown to Lady Jane Grey
Source: "Merrie England: Travels, Descriptions, Tales and Historical Sketches"
Author: Grace Greenwood
Illustrator: Devereux
Publisher: Ticknor and Fields
Year: 1858
Read online here.




My Collection
New To: Reign: Page 1
Shows: The Offer of the Crown to Lady Jane Grey
Caption: "All knelt in homage before her while Northumberland proffered her the crown."
Source: "Merrie England: Travels, Descriptions, Tales and Historical Sketches"
Author: Grace Greenwood
Publisher: Ginn & Company
Year: 1908
Read online here.




New To: Reign: Page 1
Shows: Lady Jane Grey offered the Crown
Medium: Original Drawing, red and black chalk.
Artist: Giovanni Battista Cipriani
Description: Lady Jane Grey offered the Crown; Northumberland and Suffolk, one standing, the other kneeling, present the crown to Lady Jane who makes a gesture of refusal.
Size: 175m x 192m
Location: British Museum
Found here.




New To: Reign: Page 2
FULLER IMAGE ADDED
Description: Lady Jane Grey borne in procession; procession moving from l to r along street, Lady Jane sitting in a litter carried by horses, surrounded by her retainers, and onlookers on street at r and beyond at windows and on balconies.
Artist:Edward Henry Corbould
Medium: Watercolour, touched with white.
Size: 354m x 505m
Location: British Museum
Found here.

My Collection
New To: Reign: Page 2
Caption: "Jane was called upon to sign a proclamation and she wrote in a shaking hand at the bottom of the document, "Jane the Quene".
Source: "The Romance of the Nation: A Stirring Pageant of the British Peoples Through All the Ages"
Author: Charles Ray
Publisher: Amalgamated Press
Year: 1934

My Collection
New To: Reign: Page 2
Caption: "The Duchess of Northumberland insulted Lady Jane Grey in the coarsest terms, threatening to carry of her husband to Sion House."
Source: "The Romance of the Nation: A Stirring Pageant of the British Peoples Through All the Ages"
Author: Charles Ray
Publisher: Amalgamated Press
Year: 1934

My Collection
New To: Reign: Page 2
Caption: "When the Lord High Treasurer brought the crown to Jane and desired to put it on her head, she declined with many protestations."
Source: "The Romance of the Nation: A Stirring Pageant of the British Peoples Through All the Ages"
Author: Charles Ray
Publisher: Amalgamated Press
Year: 1934

My Collection
New To: Tower: Page 1
Caption: "The Lord Treasurer, who had taken the regalia and jewels to Jane, now invaded her chamber and demanded their return."
Source: "The Romance of the Nation: A Stirring Pageant of the British Peoples Through All the Ages"
Author: Charles Ray
Publisher: Amalgamated Press
Year: 1934

My Collection
New To: Tower: Page 1
Caption: "The Duke of Suffolk hastened to his daughter to announce that she was no longer queen, but must return to the station of a private person."
Source: "The Romance of the Nation: A Stirring Pageant of the British Peoples Through All the Ages"
Author: Charles Ray
Publisher: Amalgamated Press
Year: 1934

My Collection
New To: Tower: Page 1
Caption: "When Lady Jane Grey was sentenced to be beheaded or burned at the queen's pleasure she was followed on her way back to the Tower by sympathetic crowds, who lamented her fate."
Source: "The Romance of the Nation: A Stirring Pageant of the British Peoples Through All the Ages"
Author: Charles Ray
Publisher: Amalgamated Press
Year: 1934

My Collection
New To: Tower: Page 3
Caption: "Lady Jane Grey implored the Abbot of Westminster not to disturb her mind with controversy, as she had no time for that."
Source: "The Romance of the Nation: A Stirring Pageant of the British Peoples Through All the Ages"
Author: Charles Ray
Publisher: Amalgamated Press
Year: 1934

My Collection
New To: Tower: Page 2
Caption: "When a prisoner in the Tower Lady Jane Grey was allowed to walk in the queen's garden, while her husband, Lord Dudley, and his brother were permitted to walk on leads on the leads of the Bell Tower."
Source: "The Romance of the Nation: A Stirring Pageant of the British Peoples Through All the Ages"
Author: Charles Ray
Publisher: Amalgamated Press
Year: 1934

My Collection
New To: Tower: Page 2
Caption: "Poor Lady Jane stood at the window of her apartment and saw her husband pass to his public execution on Tower Hill."
Source: "The Romance of the Nation: A Stirring Pageant of the British Peoples Through All the Ages"
Author: Charles Ray
Publisher: Amalgamated Press
Year: 1934

New To: Tower: Page 2
Shows: Lady Jane Grey In the Tower of London.
Caption: "Jane Saw Him Being Led Away"
Source: "Macmillans History Readers - Simple Stories From English History"
Publisher: Macmillan and Co
Year: 1895
Read online here.

New To: Tower: Page 2
Shows: Lady Jane Grey In The Tower (Maybe)
Medium: Watercolour (?)
Notes: Sorry no more information.

My Collection
New To: Execution: Page 1
Caption: "The queen was at last induced to sign the warrant for the execution of Lady Jane Grey and her husband."
Source: "The Romance of the Nation: A Stirring Pageant of the British Peoples Through All the Ages"
Author: Charles Ray
Publisher: Amalgamated Press
Year: 1934

My Collection
New To: Execution: Page 1
Caption: "When the Lieutenant of the Tower asked Jane for some memento, she offered him the book of devotions from which she had been praying."
Source: "The Romance of the Nation: A Stirring Pageant of the British Peoples Through All the Ages"
Author: Charles Ray
Publisher: Amalgamated Press
Year: 1934

My Collection
New To: Execution: Page 1
Caption: "Though Lady Jane Grey's husband, Lord Dudley, was beheaded on Tower Hill, outside the fortress, Lady Jane herself, being of royal blood, was executed on the green inside." Painting by A. Rosell, she is seen on her way to execution.
Source: "The Romance of the Nation: A Stirring Pageant of the British Peoples Through All the Ages"
Author: Charles Ray
Publisher: Amalgamated Press
Year: 1934

New To: Execution: Page 1
Title: Lady Jane Grey's Walk
Medium: Drawing with black ink and prismacolor on plain paper.
Artist: Majutsu aka Blankfacedseraphim
Year: 2008
Note: This is a depiction of Lady Jane Grey, on her walk to the scaffold in February 1554. She reads her prayer book as she walks, and in the background are snippets of the letter she wrote to her father shortly before her execution. You can find the letter in its entirety fairly easy on the internet.
Found here.
Permission Granted To Use By Artist

New To: Execution: Page 1
Shows: Lady Jane Grey Taken To Her Execution
Source: "Journal des Demoiselles"
Artist: J. Errapaz (?)
Publisher: Bureau du Journal
Year: 1848
Language: French
Read online here.

My Collection
New To: Execution: Page 1
Shows: Lady Jane Grey on Scaffold
Source: Cover of "The Tower of London: The Tragedy of Lady Jane Grey"
Author: William Harrison Ainsworth
Publisher: W. Foulsham & Co. LTD
Year: 1940?

New To: Execution: Page 1
Title: Exécution de Jeanne Gray
Source: "Les Prisons de l'Europe"
Authors: Jules Édouard Alboise du Pujol, Auguste Maquet
Publisher: Administration de librairie
Year: 1845
Language: French
Read online here.

New To: Execution: Page 2
Title: Mort de Jeanne Gray
Source: "Vie des Enfants Célèbres"
Author: Anne François Joachim Fréville
Publisher: Librairie d'éducation de Didier
Year: 1839
Language: French
Read online here.

New To: Execution: Page 2
Title: Iohanna Gray, binnen Londen onthalts int / Jaar 1554
Medium: Etching
Artist: Jan Luyken
Size: 188m x 147m
Location: British Musem
Found here.

My Collection
New To: Execution: Page 2 & Miscellany: Uneekdolldesigns' Lady Jane Grey Dolls
Shows: Lady Jane Grey On Her Execution Day
Description: Her dress is embellished creamy satin accented in pearls, ruffles, and chocolate ribbon. Blindfold is removable if needed, and she has a wooden disc base.
Artist: Debbie Ritter aka uneekdolldesigns
Size: 4 and 3/4 inches tall.
Year: 2008
Notes: This miniature was commissioned by me to commemorate the 455th Anniversary of the Execution of Lady Jane Grey.
Interested in buying Jane or other great dolls? Visit her Etsy Shoppe here.
Permission Granted To Use By Artist

New To: Execution: Page 2
Shows: Lady Jane Grey Blind Folded
Medium: Drawing
Artist: Yokobo
Year: 2008
Found here.

New To: Execution: Page 3
Title: The Execution of Lady Jane Grey
Description: Study for the painting 'The Execution of Lady Jane Grey' (National Gallery, London; NG1909); cloaked male figure helping blindfolded kneeling Lady Jane Grey to place her head on the block.
Medium: Drawing with graphite and stump.
Artist: Paul Delaroche
Size: 150m x 135m
School: French
Location: British Museum
Year: 1832-1833
Found here.

New To: Execution: Page 3
Caption: Salon de 1834. - Exécution de Jeanne Gray, tableau de M. Paul Delaroche
Source: Extrait du magasin Pittoresque
Year: 1834
Size: 180 x 155 mm

New To: Execution: Page 3
Title: La Ejecución de Lady Jane Grey
Medium: Drawing
Arist: María Silvestre
Year: 2008
Found here.

New To: Execution: Page 3
Shows: Lady Jane Grey
Medium: Drawing
Artist: Harmony (My Niece)
Date: 2009

New To: Execution: Page 3
Title: The (Modern) Execution of Lady Jane Grey
Medium: Photograph
Photographer: Lior Patel
Year: 2008
Found here.

New To: Execution: Page 4
Title: Execution of Lady Jane Grey on The Tower Green
Medium: Original Drawing
Artist: George Cruikshank
Size: 223m x 175m
Location: British Museum
Found here.

New To: Execution: Page 4
Shows: The Execution of Lady Jane Grey
Medium: Illustration
Artist: Kris Waldherr
Source: "Doomed Queens"
Year: 2008
Note: This image is obviously based on the one by George Cruikshank for Ainsworth's "Tower of London", but in "Doomed Queens" it appears in the background of a illustration of Mary, Queen of Scots standing in from of Queen Elizabeth I. I am not sure if the artist thought it was Mary or not.

New To: Execution: Page 4
Shows: A Live Tableux of The Execution of Lady Jane Grey Based On the Cruikshank Drawing
Medium: Photograph on Magic Lantern Slide

New To: Execution: Page 4
Shows: Lady Jane Grey Beheaded
Medium: Sketch
Artist: Margot Trudell
Year: 2009
Found here.

New To: Execution: Page 4
Shows: Lady Jane Grey Holding Her Head
Medium: She made the ketch with Expression 3 but did the major work with Corel Painter Essentials 3 and wacom graphire 4. She finally used Artweaver for the canvas-look.
Artist: Marietta Gurk aka Schokopocky
Year: 2009
Found here.
Permission Granted To Use By Artist

New To: Execution: Page 4
Shows: Headless Historicals Lady Jane Grey Doll #2
Medium: Reworked vinyl doll.
Description: She wears a long purple velveteen gown with floral brocade bodice and trim that is adorned with many hand-sewn faux pearls. A wide gold trim dotted with faux pearls follows along the bottom hem. The underskirt and lower sleeves are made with a majestic purple-blue silk.

Jane's severed head has hand-painted features and wears her beautiful long blonde hair gathered beneath a matching headdress with a gold net veil. A faux pearl and sterling silver cross necklace surrounds what is left of her neck. The spinal bone protrudes slightly from the bleeding neck stump.
Size: Approx. 14" tall.
Artists: Shiva Rodriguez and Garith Pettibone
Year: 2008
Found here.

New To: Miscellany: Page 1
Shows: Lady Jane Grey Doll
Artist: Rexard
No further information.

New To: Miscellany: Uneekdolldesigns' Lady Jane Grey Dolls
Shows: Lady Jane Grey in Royal Purple
Description: Her costume is in royal purple with a crushed velvet overskirt, all embellished with scalloped trim with beads. She also has her long hair in a side braid entwined with gold pearls. Her face is hand painted and there is a hair piece added on top to finish her royal look.
Artist: Debbie Ritter aka uneekdolldesigns
Size: 4 and 3/4 inches tall.
Year: 2008
Interested in buying Jane or other great dolls? Visit her Etsy Shoppe here.
Permission Granted To Use By Artist

My Collection
New To: Miscellany: Uneekdolldesigns' Lady Jane Grey Dolls
Shows: Lady Jane Grey in Copper
Description: Her costume is a copper colored dress overlaid in a gold floral pattern. She has a cream satin overskirt and the skirt is accented in copper and brown ribbons. Cream lace and a pearl collar add a finishing touch. Her face is hand painted.
Artist: Debbie Ritter aka uneekdolldesigns
Size: 4 and 3/4 inches tall.
Year: 2009
Interested in buying Jane or other great dolls? Visit her Etsy Shoppe here.
Permission Granted To Use By Artist

---

New To: Movies: Page 1
Shows: Helena Bonham Carter as "Lady Jane Grey" and William Saire as "Edward VI".
Source: "Lady Jane" (1986)

New To: Movies: Page 1
Shows:Sarah Kestelman (Lady Francis Grey), Patrick Stewart (Lord Henry Grey), and Helena Bonham Carter (Lady Jane Grey) and Mrs. Ellen (Jill Bennett) right before Lady Jane is beaten for saying she didn't want to marry Lord Guildford Dudley.
Source: "Lady Jane" (1986)

New To: Movies: Page 1
Shows: Helena Bonham Carter as "Lady Jane Grey" and William Saire as "Edward VI".
Source: "Lady Jane" (1986)

New To: Movies: Page 1
Shows: Helena Bonham Carter as "Lady Jane Grey" and Cary Elwes as "Lord Guilford Dudley".
Source: "Lady Jane" (1986)

New To: Movies: "Lady Jane"
Shows: Helena Bonham Carter as "Lady Jane Grey".
Source: "Lady Jane" (1986)

New To: Movies: "Lady Jane"
Shows: Helena Bonham Carter as "Lady Jane Grey".
Source: "Lady Jane" (1986)

New To: Movies: "Lady Jane"
Shows: Helena Bonham Carter as "Lady Jane Grey".
Medium: Drawing
Artist: Elena Tintil
Year: 2008
Found here.

New To: Movies: "Lady Jane"
Shows: Helena Bonham Carter as "Lady Jane Grey" and Cary Elwes as "Lord Guildford Dudley.
Source: "Lady Jane" (1986)

New To: Movies: "Lady Jane"
Shows: Helena Bonham Carter as "Lady Jane Grey" and Cary Elwes as "Lord Guildford Dudley.
Source: "Lady Jane" (1986)

New To: Movies: "Lady Jane"
Shows: Helena Bonham Carter as "Lady Jane Grey" on the scaffold.
Source: "Lady Jane" (1986)
Originally added 10 - 21 - 2003

New To: Movies: "Lady Jane"
Shows: Helena Bonham Carter as "Lady Jane Grey" on the scaffold.
Source: "Lady Jane" (1986)

New To: Movies: "Lady Jane"
Shows: Helena Bonham Carter as "Lady Jane Grey" on the scaffold.
Source: "Lady Jane" (1986)

New To: Movies: "Tudor Rose"
Shows: Nova Pilbeam as "Lady Jane Grey", and John Mills as "Lord Guilford Dudley".
Source: "Tudor Rose" aka "Nine Days A Queen" (1936)

New To: Movies: "Tudor Rose"
Shows: Nova Pilbeam as "Lady Jane Grey".
Source: "Tudor Rose" aka "Nine Days A Queen" (1936)

New To: Movies: "Tudor Rose"
Shows: Nova Pilbeam as "Lady Jane Grey", and John Mills as "Lord Guilford Dudley".
Source: "Tudor Rose" aka "Nine Days A Queen" (1936)

New To: Movies: "Tudor Rose"
Shows: Nova Pilbeam as "Lady Jane Grey" on the scaffold.
Source: "Tudor Rose" aka "Nine Days A Queen" (1936)