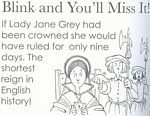 My Collection
New To: Tower: Page 1
Shows: Lady Jane Grey
Source: "Heroes and Villians of History" Coloring Book
Authors/Artists: Les and Lorraine Ives
Year: 2010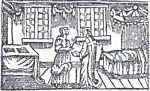 My Collection (reprint, not original)
New To: Tower: Page 1
Shows: Lady Jane Grey and Feckenham
Source: Reprint of "The Unhappy Princesses. In Two parts. Containing, First, the Secret History of Queen Anne Bullen...Secondly, the History of the Lady Jane Gray"
Author: R.B.
Year: 1733 (reprint year 2009)

New To: Tower: Page 1
Title: "Fecknam's Interview With Lady Jane Gray In The Tower"
Medium: Enamel on copper
Size: 13 x 15 1/8 in. (33 x 38.4 cm.)
Artist: Henry Pierce Bone, After James Northcote, R.A.
Year: 1833
Information: Signed, dated and inscribed 'Lady Jane Grey London, Sept. 1833. Painted by Henry Pierce Bone. Enamel Painter to Her Majesty and their Royal Highnesses the Duchess of Kent & Princess Victoria. From the Original by J. Northcote R.A. in the Collection of Joseph Neeld Esq. M.P.' (on the reverse)
Found here.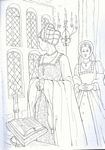 My Collection
New To: Tower: Page 2
Shows: Lady Jane Grey
Source: "Heroes and Villians of History" Coloring Book
Authors/Artists: Les and Lorraine Ives
Year: 2010
Information: This drawing looks a lot like the cover of Alison Weir's "Innocent Traitor" novel of Lady Jane Grey, found here.
My Collection
New To: Execution: Page 2
Shows: Lady Jane Grey
Source: "La Romance (Journal.) - Les Adieux de Jane Grey, Stances"
Author(s): Mr. Edouard Monnais, dédiécs à sow confrere Paul Delaroche, Officer de la Legion d'honneur membre de l'Institut Par Le Chevalier H.M. Benton, Officer de la Legion d'honneur, membre de l'Institu de France.
Artist: Achille Deveria
Lithographer: de Frey
Century: 19th

New To: Execution: Page 3
No Information.

New To: Execution: Page 3
Shows: Lady Jane Grey based on Delaroche's "Execution of Lady Jane Grey"
Medium: Oil on canvas
Artist: Rebecca Reibke
Years: 2003-2004
Found here.

New To: Execution: Page 3
Shows: Lady Jane Grey based on Delaroche's "Execution of Lady Jane Grey"
Year 2011
Found here.


New To: Execution: Page 3
Shows: Photo Shoot based on Delaroche's "Execution of Lady Jane Grey"
Found here.

New To: Execution: Page 4
Shows: A homage to the death of Lady Jane Grey with an onlooker in an Alexander McQueen dress
Artist Paul McBride
Medium Pencil & Photoshop
Year 2009
Found here.
Permission Granted To Use By Artist

My Collection
New To: Execution: Page 4
Shows: Reprint of a Woodcut of the Execution of Lady Jane Grey
Source: "London: 2000 Years of A City & It's People"
Author(s): Felix Barker and Peter Jackson
Year: 1974
Original Source: A broadside entitled "A Conference Between Lady Jane Grey and F. Fecknam a Romish Priest"
Note: Image text (not shown) reads: "At her execution Lady Jane Grey was quite calm. The pitiable girl admitted legal guilt, but claimed that she was 'innocent before God'. Then she tied a handkerchief over her eyes and asked the executioner to despatch her quickly. The broadside, right, shows the executioner with a raised sword. History prefers an axe."

New To: Execution: Page 4
Shows: Lady Jane Grey
Artist joamoon
Year 2010
Found here.

New To: Execution: Page 4
Shows: Shows 4 Variations of the same image of Lady Jane Grey
Artist Michael Purszke
Year 2010
Found here.
Permission Granted To Use By Artist