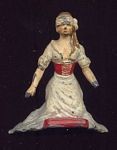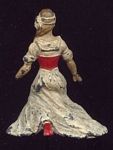 My Collection
Shows: Lady Jane Grey At Her Execution, based on Delaroche's painting.
Medium: Antique cast metal toy figure
Size: 1 1/2" high
Information: There is no maker's mark, but on the bottom in handwriting it reads: Lady Jane Grey, Made in England.
Notes: There is some paint loss and her left hand is missing.

Added 10 - 12 - 2003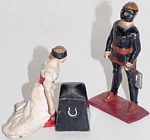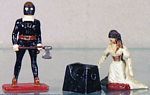 Shows: Lady Jane Grey, the Executioner and the chopping block.
Medium: Toys
Artist: Signed by Richard Courtenay (except for the executioner).

First Image Added 10 - 12 - 2006 - Second Image Added 7 - 9 - 2008.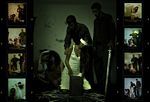 Title: The (Modern) Execution of Lady Jane Grey
Medium: Photograph
Photographer: Lior Patel
Year: 2008
Found here.

Added 2 - 12 - 2009.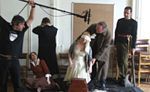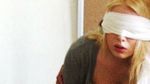 Information: Pictures of actress Lucy Thomas from a short drama based on the historic tale of a 17 year old girl (Lady Jane Grey) executed, relocating the action to contemporary times, referencing the painting by Paul Delaroche.
Source: "Lady Jane" Short Film
IMDB Page
Found here. and here.

Added 2 - 12 - 2008.
NEW
Title: Lady Jane Grey - Preparation
Medium: Photograph
Photographer: Dieter Schumann
Year: 2009
Found here.

Added 7 - 9 - 2010.

NEW
Title: Lady Jane Grey - Impatience
Medium: Photograph
Photographer: Dieter Schumann
Year: 2009
Found here.

Added 7 - 9 - 2010.

NEW
Title: Lady Jane Grey - The Last Course
Medium: Photograph
Photographer: Dieter Schumann
Year: 2009
Found here.

Added 7 - 9 - 2010.

NEW
Title: Lady Jane Grey - The Execution
Medium: Photograph
Photographer: Juergen Isberner?
Year: 2009
Found here.

Added 7 - 9 - 2010.


Shows: Photo Shoot based on Delaroche's "Execution of Lady Jane Grey"
Found here.

Added 2 - 12 - 2011.




Left - Title: Lady Jane Grey and Queen Elizabeth I
Artist: Emma Louise
Information: 2 of a series of 5 paintings from The Reign of Perversity. Iggy (Ulrich) represents Queen Elizabeth I.

---

Middle - Title: Lady Jane Grey
Artist: Emma Louise
Information: 1 of a series of 5 paintings from The Reign of Perversity. Miss Poizen represents Lady Jane Grey.

---

Right - Another view of "Lady Jane Grey"
Found here.

Left & Middle Image Added 2 - 12 - 2004 - Right Image Added 7 - 9 - 2005

Title: Retake on The Execution of Lady Jane Grey
Artist: Kate Boulden aka fetch-a-spade
Year: 2009
Permission Granted To Use By Artist

Added 2 - 12 - 2010.

Title: Study For Jane
Medium: Pencil on paper.
Description: A retake on Lady Jane Grey from "The Execution of Lady Jane Grey" by Delaroche.
Artist: Kate Boulden aka fetch-a-spade
Year: 2009
Found here.
Permission Granted To Use By Artist

Added 7 - 9 - 2009.

Shows: Lady Jane Grey Costume Design
Title: Transformations: from "The Execution of Lady Jane Grey" by Paul Delaroche
Artist: Hyun Jung Park
Location: National Gallery
Date: May 2009
Found here.

Added 7 - 9 - 2009.




Title: The Execution of Lady Jane Grey with Cats
Medium: Bodycolor on tinted paper
Size: 10 3/4 X 8 1/4 inches
Artist: Susan Herbert
Exhibition: Louis Wain & The Summer Cat Show.
Found here.

Added 2 - 12 - 2006

Title: Lady Jane Grey's Twenty First Birthday Party By Delaroche
Medium: Pen and Ink
Size: 8 1/4 x 10 inches
Artist: Larry (Terence Parkes)
Found here.

Added 7 - 9 - 2009.




Title: Exécution de Désiré Françoise Liberté (Execution of Desired French Freedom) (Parodie de la Jane Gray de Mr Delaroche)
Size: 27,5 x 36,5 cms.
Artist: AB

Added 7 - 9 - 2006